---
The Design & Installation Process
The brief
The basis of any project undertaken by HME starts with a detailed understanding of the brief where our technical team are able to support prospects in delivering a project that works for the teachers and education
Design Solutions
After having established the requirements of the project within a quotation, our highly experienced team will translate the 'wish list' into a practical and safe layout that will satisfy even the most demanding of DT departments
Communication throughout
The level of liaison that we engage in gives you the peace of mind that all aspects of the design have been considered, including fume and dust extraction routes, safe working areas and the vital detail needed by the M & E team
HME Design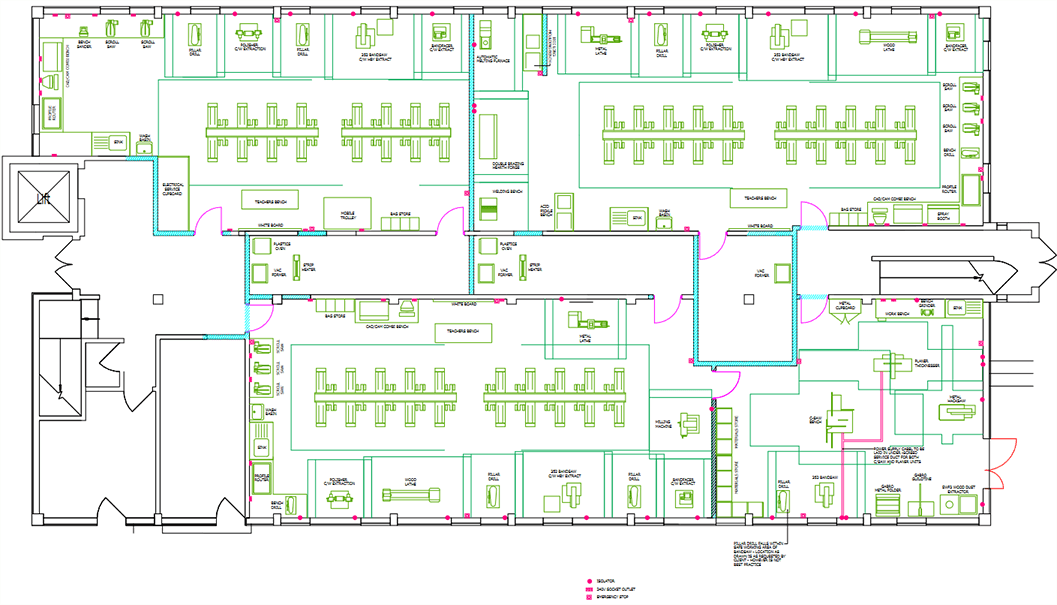 Working to safety guidelines set out in the Building Bulletin 81 code of practice, we create the best possible room layout plan to show the implementation of the equipment (both new and legacy) into the new rooms. These drawings prove to be extremely helpful to all parties involved, as they clearly represent a graphical interpretation of the proposed build – to building contractors, this can help show how much space is left available, and how to position machinery in the safest possible way; to a school, these drawings clearly display the types of machinery that they are to be provided as new and as legacy transfers (if applicable)
Download a typical HME design (PDF)
Installation
Building Bulletin 81 offers guidance to anyone involved with the briefing and design processes for design and technology accommodation. It is aimed at teachers, governors, local education authority advisers and building professionals, and is relevant to both new construction and the adaptation of existing buildings
---
Key Planning Issues
There are some key planning issues which relate to all machines regardless of their function:
The floor in the area where the machine is sited should be level, nonslip and well maintained.
1
Machines should be positioned in one long run as far as possible, to give the teacher a single sight line for supervision.
2
Machines should be situated in good natural light – particularly important for precision machines.
3
Consideration must be given to the most appropriate machines to position adjacent to fire exits; those which do not require large pieces of material to be clamped to them will not block exits in an emergency.
4
Positioning machines against a circulation route allows the operator the greatest distance to move away from an accident. Allowing circulation behind the machines does, however, require good workshop management and teachers may choose to make pupils aware of safe workshop practice by marking out the circulation route using chevron tape.
5
Wherever possible multi-benches rather than design tables should be put next to machinery runs. Pupils doing similar work on multibenches are less likely to distract pupils using machines, and benches provide useful supplementary work surface for machine operators.
6
There should be sufficient space around any machine to allow safe use of the machine and to prevent the operator from being accidentally pushed by passers-by.
7
HME Technology always adhere to the guidelines laid out in BS4163 during design and installation procedures, ensuring that our solutions are always as safe as possible.
8
Clients we have worked with
HME played a key role in many BSF builds around the country – designing and installing new Design & Technology suites. HME has worked with:
Our UK projects
In England and Wales, we have worked for 95% of Local Educational Authorities including:
Metropolitan Boroughs of London
Birmingham
Manchester
Counties of Kent
West Sussex
Hampshire
Hertfordshire
Northumberland
Cambridgeshire
Warwickshire
Our successes have not been restricted to state schools, though; we have completed work for:
Bromsgrove
Malvern
Worcester Grammar School
St Edward's Cheltenham
Eton
Uppingham and Pangbourne in Reading
Outside of the UK
Internationally we are managing turnkey operations in Bangkok and Qatar. We have also equipped five schools in Botswana and supplied equipment for Saudi Arabia and Nigeria, and contract work to supply and install in Hong Kong and Mauritius.
Explore our International Sales page