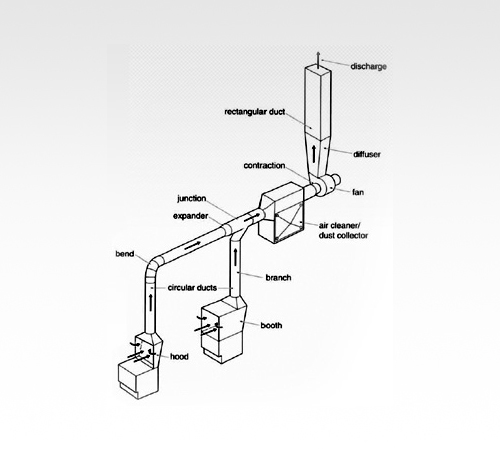 Control of Substances Hazardous to Health (COSHH)
COSHH Regulations provide an indication to what an employer should be aware of regarding the prevention of harm to employees due to hazardous materials within a working environment. REGULATION 7 of these regulations states that;
"Every employer shall ensure that the exposure of his employees to substances hazardous to health is either prevented or, where this is not reasonably practicable, adequately controlled."is either prevented or, where this is not reasonably practicable, adequately controlled."
This is supported by the COSHH Approved Code of Practice, which lists ways in which control can be achieved and makes specific mention of enclosure, partial enclosure with LEV, LEV and sufficient general ventilation.
When may LEV be required?
Heat Treatment – including: Welding; Forging; Brazing; Casting; and Soldering.
Wood Work Machinery – including: Saws; Sanders; Planers & Thicknessers; and CNC.
Chemical Processes – including: Acid Pickling; Plastics or Glass Reinforced Plastic; Paint
Spraying; and Engine Exhaust Emissions.
Working with adhesives or printing processes.
Working with ceramics or glazes.
Why do LEV systems require testing?
REGULATION 9 of COSHH requires that any control measure taken to comply with REGULATION 7 must be maintained in an efficient state, in efficient working order and in good repair.
Obviously, over time, an extraction system will deteriorate and become less efficient. Regular testing of a system allows any potential problems to be found, and repaired, before major problems can occur. Due to the various components that make up an LEV system, there are a number of different parts that can fail testing, for a number of different reasons:
Static items, such as rigid ducts and hoods, etc should not wear unduly with time. However, they may become mechanically damaged by external materialsand/or worn or corroded by materials carried in the duct.
Moving items, such as fan bearings, drives and motors, and filter shakers, wear more quickly. This is because of their comparitively large workload within the system.
Components such as flexible ducts and filter fabric naturally deteriorate with use.
Some items may need frequent attention, e.g. filter bins and waste containers, both of which need emptying on a daily weekly basis, and cell type filters on paint spray booths, which may need replacement at the end of each working shift.
If any component of the ventilation develops a fault, the capabilities of the extraction can become extremely impaired and fail to safely remove all hazardous fumes/dust from the work zone.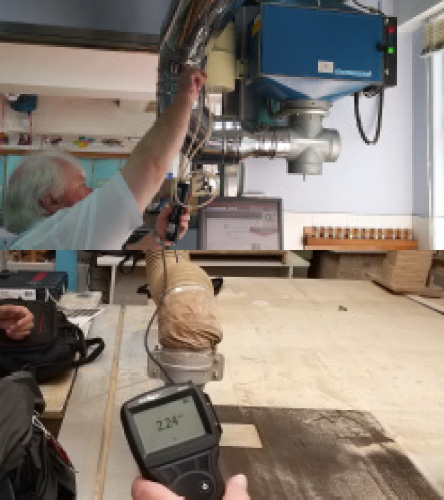 How often should LEV systems be tested?
| PROCESS | MINIMUM FREQUENCY |
| --- | --- |
| Processes in which blasting is carried out in or incidental to the cleaning of metal castings in connection with their manufacture. | 1 Month |
| Jute Cloth Manufacture | 1 Month |
| Processes other than wet Processes, in which metal articles (other than of gold, platinum or iridium) are ground, abraded, or polished using mechanical power, in any room for more than 12 hours per week. | 6 Months |
| Processes giving off dust or fume in which non-ferrous metal castings are produced | 6 Months |